Roca Group acquires Alape to expand its range of bathroom products
16/10/2023
Spain's Roca Group, one of the global market leaders in the design and production of bathroom furnishings, is expanding in Germany and acquires the German company Alape GmbH, based in Goslar/Hahndorf, with effect from 16 October 2023. Alape is an established premium brand that specialises in the production of bathroom objects made from enamelled steel. The acquisition will secure the majority of jobs at the company's headquarters. Alape will remain an independent brand with its own business strategy, with leading employees taking over the management of the company.
A new management trio will take control of Alape in Goslar from 16 October. This team will consist of Michael Gatzke (Commercial Director), Andrea Jürgens (Marketing and Design Director) and Dr Julia Rami (Production Director). By rescuing the company from preliminary insolvency proceedings, the acquisition also secures over 90 jobs. The 125-year-old factory in Hahndorf near the town of Goslar in northern Germany will be retained, and will continue to serve as the company's hub of production and innovation. It is here that Alape manufactures its enamelled steel washbasins using its unique combination of craftsmanship and high-tech processes.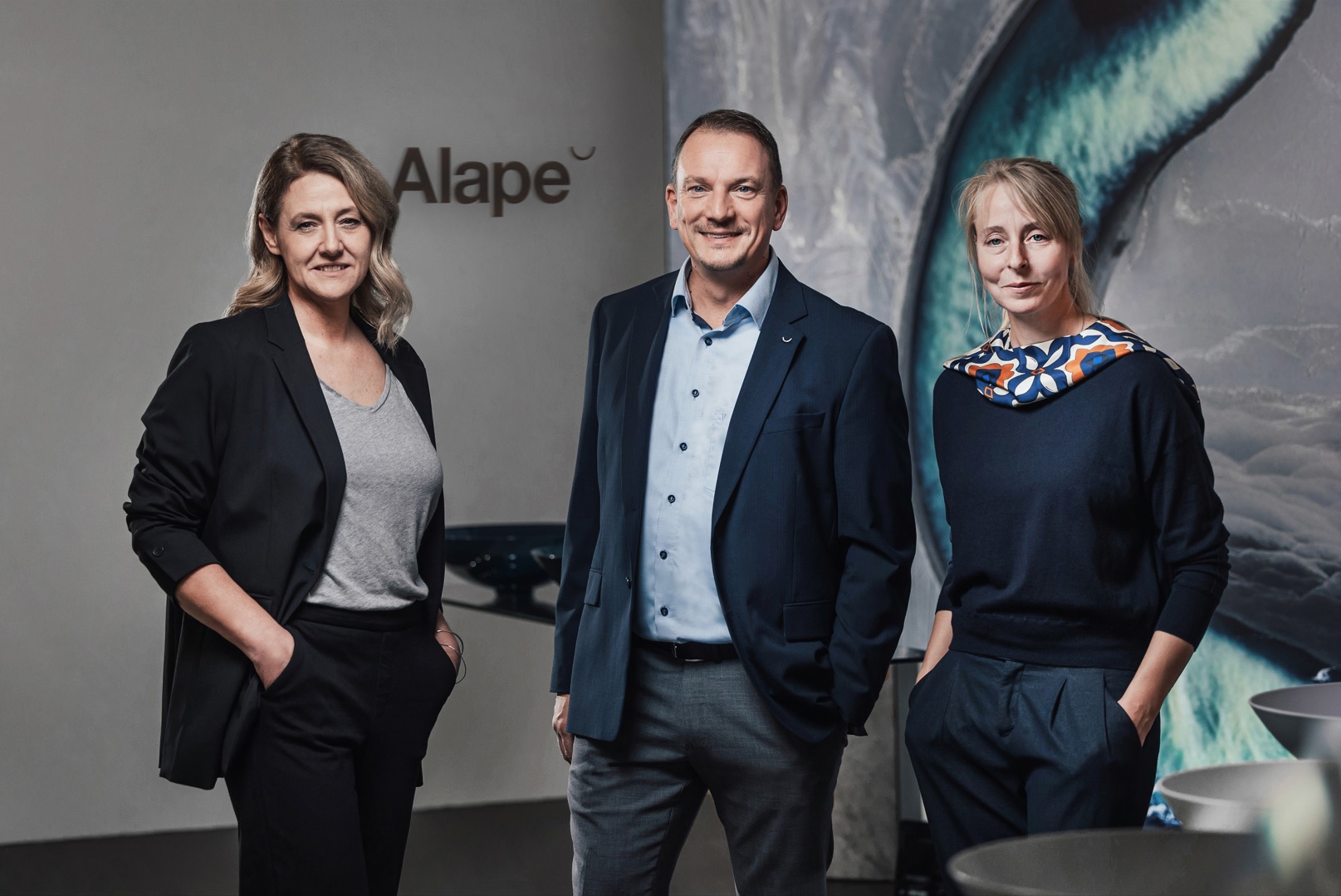 The acquisition primarily aims to deliver advantages in sales and the market position of both companies. Alape will become part of a strong global player. This will enable greater access to the international project business, as well as to Roca's distribution network in 170 countries and to materials and technologies. The Group benefits from Alape's expertise in steel enamel and expands its multi-brand portfolio with a premium brand with special material competence that only very few manufacturers have mastered. Alape's high-end design is renowned among architects, interior designers and design-conscious customers around the world.
The restructuring will place the company on a stable footing, allowing it to continue as an independent brand with its own strategy and corporate culture. Alape's main markets are in Germany, Switzerland, Austria and the Benelux region, where enamelled steel is a popular material for showers, bathtubs and washbasins.
Enamelled steel is valued above all for its excellent robustness, durability and recyclability. It is hygienic and easy to care for, and can be crafted into highly precise designs. These qualities make it the perfect addition to the Roca Group's washbasin portfolio, which has been dominated by ceramic, mineral cast and Saphirkeramik material. Both companies see the material diversity and design coherence as key factors for their long-term success in the highly competitive bathroom market.
Michael Gatzke: "The integration into the Roca Group is an outstanding opportunity for Alape to expand its sales structures in the long term. It is a decisive step, with which we aim to offer our premium products to more markets."
Andrea Jürgens: "We will reinforce the brand's premium market position and develop it carefully to best respond to the needs of our customers. We will remain committed to our high quality standards and will be the perfect addition to the Roca Group's brand portfolio."
 
About Roca Group
Roca Group, which includes the global brands Roca and Laufen, is the world leader in design, production and marketing of bathroom products for architecture, construction and interior design. Founded in Barcelona in 1917, it combines tradition and knowledge with a passion for innovation and respect for the environment with the aim of meeting people's needs and contributing to the improvement of society's well-being.
With the principle of sustainability at the heart and root of all its activities and with the aim of bequeathing a better planet to future generations, Roca Group implements this culture in the 170 countries in which it operates and in its 76 factories through the daily commitment of its more than 21,000 employees.
This family-owned group is the market leader in Europe, Latin America and India. It also has a strong presence in Asia, the Middle East, Australia and Africa. As a result, it is a world leader in its business.
rocagroup.com
About Alape
Alape was founded by Adolf Lamprecht in 1896 in Penig, Germany, as a manufacturer of enamel products. Today, the company employs 94 people and manufactures premium washbasin products at two sites in Goslar. The Alape brand stands for inspirational design and high quality standards, combining technology with function. Alape uses enamelled steel together with other premium materials to create highly individual interior fittings. Alape has been part of the Spanish Roca Group since October 2023.
alape.com